We welcome Andrew back from delivering a successful HSE alignment workshop for The Penguins Project in Qingdao last week…
People Positive was tasked with supporting the alignment of 5 companies around an HSE vision. To add to the diversity and challenge there were 37 people in the room and at least 8 different nationalities represented. The workshop was conducted in a language, which was for most, their second language at best. For others, simultaneous translation was provided. A number of attendees had made long flights to be there and for others this was a distraction from important operational work, especially as the workshop was taking place in their offices.
As part of the way we work in supporting clients we place a great emphasis in creating the conditions for success. The circumstances described above would not appear to meet those conditions. However the situation described is common across industries and organisations when planning events and workshops and seminars. There are always distractions, difficulties, logistical challenges and people who are not sure why they are in the room and what they can add.
It's our job therefore to ensure that we create a room and an atmosphere that is conducive to great engagement and high productivity in delivering any kind of workshop or event.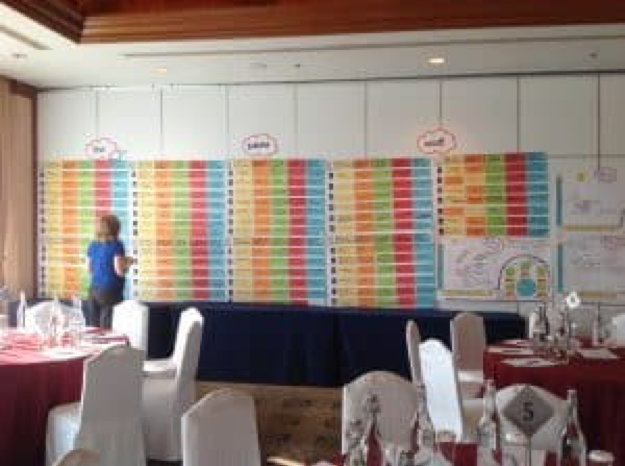 The talking wall ~ output of a pinpoint session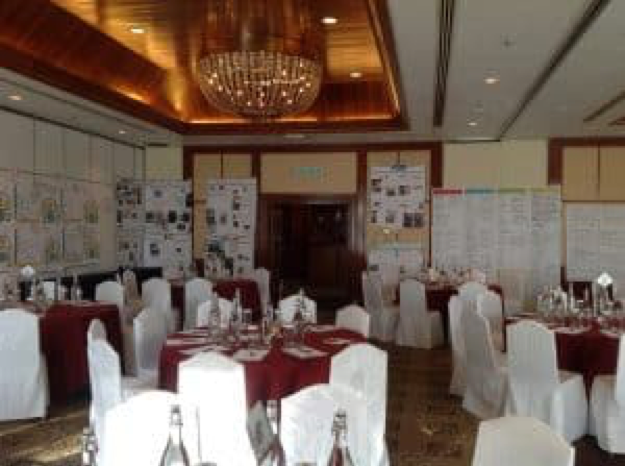 Pinpoint produces a very visual reminder of the day's discussion
Pinpoint Facilitation
Our methods are not secret and are centred around the adaptation of Pinpoint Facilitationusing highly visual techniques to stimulate conversation and debate and to record outcomes. We add a philosophy of early engagement and diligent preparation so that we can relax and focus our attention on the needs of the people in the room rather than worrying about our own performance.
The alignment workshop in China was judged a great success by the participants.  They were able to cover the ground they needed to and reached an agreed outcome which was visually represented and will be used during the project. This was not luck or a happy by-product, it was the result of  weeks of planning, constant communication between People Positive and the client, focused preparation and deliver and, most importantly by the willingness and ability of the participants to engage with each other in setting the direction of the project.